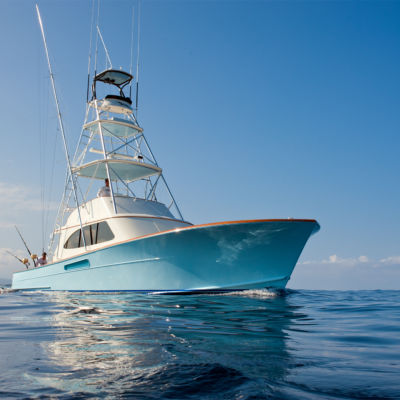 Bwana – Kona, HI
Captain: Teddy Hoogs
Boat: 46′ Gamefisherman Flybridge
Size: 46′ x 14′
Tonnage: 26 Gross / 21 Net
Propulsion: Twin Cummins QSM11 Diesels 710-HP
Generator: Onan 8 KW
Fuel / Water: 600 / 100 Gallons
Bio: Born and raised in Kona, Teddy was brought up learning the trade from his well-established father, Peter Hoogs. Teddy has over 20 years in these calm Kona waters and is highly experienced in the tournament circuit with numerous wins to his credit. Despite his deep respect for the industry in the islands, his love of fishing has taken him throughout the world. His travels include the west coast of Africa, Portugal, and six black marlin seasons on the Great Barrier Reef in Australia. Teddy is no stranger to big fish; his well-rounded and enthusiastic approach will be sure to suit professional anglers and first timers alike.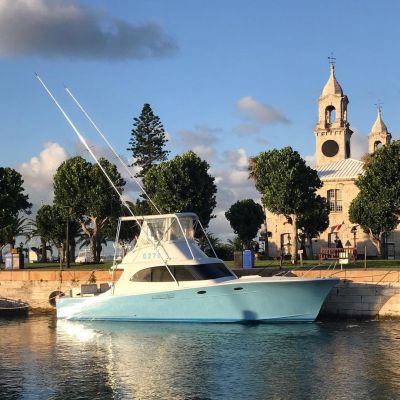 CHALLENGER – BERMUDA
Captain: Alan Card
Boat: 40′ Gamefisherman Flybridge
Bio: Join the father-and-son team of captains Alan and Ian Card for a thrilling day at sea aboard the Challenger, a 40-foot Gamefisherman. The Cards have more than 60 years of combined experience wrestling in some of Bermuda's biggest game fish. They're previous winners of the Blue Marlin World Cup and Bermuda Big Game Classic, and they also hold Bermuda records for mako shark, blue marlin, bluefin and blackfin tuna catches. The fast, well-equipped Challenger will whisk you to your fishing destination in comfort, and has a tuna tower and large cockpit with fighting chair.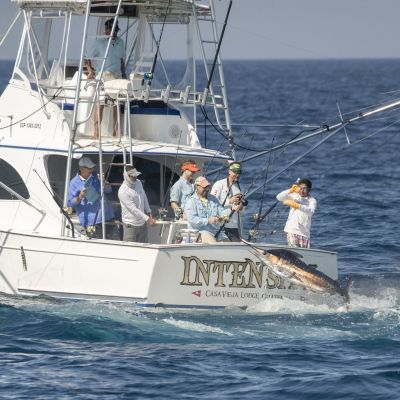 INTENSITY – GUATEMALA
Captain: Mike Sheeder
Boat: 37′ Gamefisherman Flybridge
LOA: 37′
Propulsion: Twin Cummins Diamond Series 450hp
Bio: Native Hawaiian Mike Sheeder is the youngest member of the famed Sheeder sportfishing team. As a teenager, he worked for Blue Water Marine where he is credited with developing the "Marlin Mike" artificial trolling lure. However, his fishing education began at an even earlier age with the Isacc brothers (Norm, Ed and Neil), who regularly took he, his dad and big brother Chris marlin fishing off Kona. Realizing at an early age he wanted a professional career as a captain, he attended the California State Maritime Academy. He holds a US Coast Guard "unlimited all seas" masters license and numerous accreditations as a merchant marine. He started full time in the sportfishing business mating for his brother at Midway Island, where the blue marlin, tuna and trevally bite was epic. After a stint as captain, the government there shut down the tourist business. In 2006 he moved to Guatemala, taking over the helm of the legendary Intensity. Equally adept at catching billfish and other species on light to heavy tackle and fly, Capt. Mike has consistently taken top honors in tournaments ever since while fishing out of Port San Jose, Guatemala. In 2008 he was nominated as Marlin Magazine captain of the year in for catches like 70 sailfish releases a day; four blue marlin in a day and a sailfish on 2-pound tippet that at the time was only the second ever to be caught on fly. In his off season, Capt. Sheeder navigated oil tankers through the Straits of Hormuz. No other captain in Central America has Mike's experience fishing and running boats in international waters.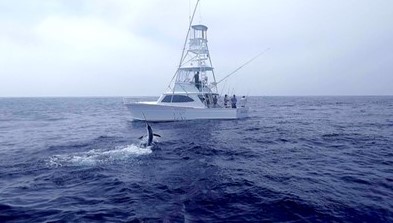 ONE MORE SPORTFISHING – MOROCCO
Captain: Christian Benazeth
Boat: 40′ Gamefisherman Flybridge
Bio: Winner of IGFA's Tommy Gifford Award, Captain Christian is a global captain for hire having much experience fishing Morocco, the Gibraltar Channel, much of West Africa, and also the Dominican Republic. One More Sport Fishing is based in Morocco "Mohammedia" and fishes on the west coast (Atlantic), north (Mediterranean) of Morocco and the Straits of Gibraltar. They have two 40′ Gamefisherman, the second one called "El Matador". The popular fish targeted are blue and white marlin, bluefin tuna and xiphias. Morocco has a coast very rich in fish and offers the possibility of practicing any type of coastal or offshore fishing.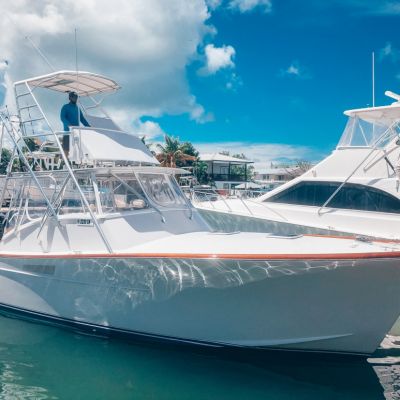 OUTLAW – MARATHON, FL, USA
Captain: Brad Picariello
Boat: 40′ Gamefisherman Express
Bio: The Picariello Family has grown up in Marathon, FL since the 1960's and have been in the Commercial & Charter Fishing business since the 70's. Winning many Tournaments over the North Atlantic and the Gulf of Mexico; Sailfish, Marlin, Tarpon and many others, the family is well known and regarded as such. My father Joe Picariello a WW2 Hero gave me a gift of fishing & making people happy, and to this day I do this to the best of my ability, making him proud. The family business now has 5 kids; Todd, Dylan, Isabella, Saraha, and Luca. My oldest son Todd Picariello is a 100grt Master Captain and is running the 40ft Gamefisherman, the "Outlaw". The rest are to follow. We are looking forward to making a lasting impression, an incredible fishing experience for you and your family.
RUM LINE – GUATEMALA
Captain: Terry Brennan
Boat: 40′ Gamefisherman Flybridge
Bio: This 40-ft Gamefisherman was built in 1989. Originally called the Jolly Roger and then the Jungle Rules while operating in Costa Rica, she arrived in Guatemala in 2008 and recently completed a total renovation. She debuted a new, beautiful, classically updated sportfish on October 25, 2018 with dual Cummins QSC 500HP Engines. Other musts include a SIMRAD NSS evo2 12-inch, Blue Water Desalination maker, cold AC in the cabin, and new mezzanine deck seating.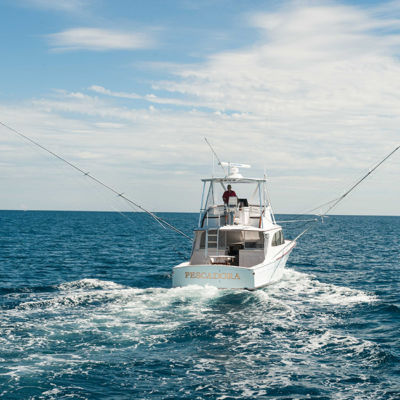 RUN A CHARTER WITH A GAMEFISHERMAN?
Fill out the form below and add a few pictures with your Gamefisherman.